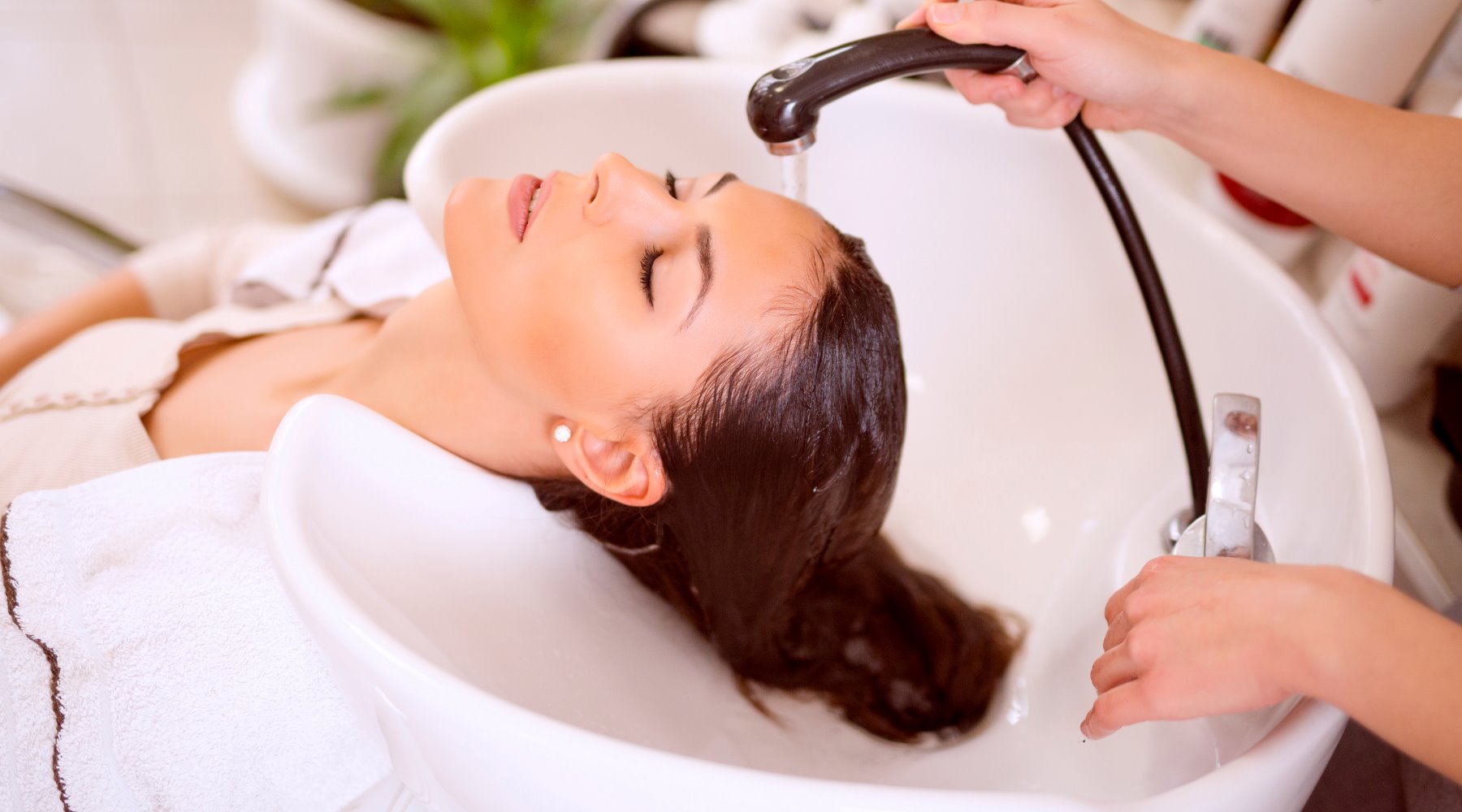 White vs. Black Shampoo Wash Bowls! Which Colour Shampoo Bowl Should I Buy?
We often have clients that find it hard to decide between a white or black salon Hair Wash Units. White sinks look beautiful and often fit better for some salon aesthetics than black sinks. The white bowl also allows them to see the hair better.

However, many fear that their pristine white shampoo sinks will stain and discolour over time. These fears are valid, and something everyone in the market for a shampoo bowl should think about.

Our clients often call and inquire:
Will white salon shampoo bowls stain?
They are worried that the beautiful white sinks they see in our
Salon Furniture Wholesale Outlet
won't look like that in a couple of years. Or that they will have to maintain the sink much more than if they had just gone with a black washbasin. They want the white sink because it will fit better into their design vision.
The simple answer to the question of whether white shampoo sinks stain and discolour is, yes. This is true for any ceramic or porcelain wash basin. Over time all shampoo sinks will begin to stain or discolour due to natural wear on the finish of the sink. This is often sped up due to the types of chemicals used in services like hair color, perming and relaxing. These chemicals may, over time, cause discolouration, no matter what quality the sink is.
The difference is that white basins will show this discolouration, while black sinks will tend to hide it due to the nature of their shades.
However, the good news is, that with proper maintenance you can keep your white shampoo basin looking clean and pristine for longer. This does mean that maintenance will be a requirement.
Maintenance of Salon Shampoo Bowls:
While both black and white shampoo sinks require maintenance, a white sink will always require more cleaning to attempt and maintain the clean white sink look.
Whether your sink is porcelain or ceramic, we recommend cleaning the sink after every wash with a non-abrasive sponge or cloth. Remove any dye as soon as possible! The longer it sits, the harder it will be to remove. You may use a gentle detergent or soap from time to time to remove hair dye, and deposits from shampoo or hair treatments.
Pay special attention to parts that come in direct contact with hair, and also clean the upper sides, as this area is often neglected.
Never use abrasive or corrosive materials on your sink. These can cause fine scratches in the finish that will trap dirt and colour, making it almost impossible to remove.
These tips will help you maintain your white wash basin for much longer. This will help you keep your hair wash bowl looking newer and cleaner. Leading to a better look for your entire salon or barbershop!
Benefits of a White Shampoo Basin:
Many clients love white sinks, and will never consider a black sink. They choose white sinks every time they need a new sink, or when they open and expand their salons or barbershops.
Often white bowls look better in their spaces and may fit in better with the aesthetic or vibes of their hair salon or barbershop. The white sinks lend an airy and light look to shampoo chairs, which may often look bulky as it is, especially with black hair wash basins.
White wash basins also provide a unique benefit for stylists and barbers over black hair wash sinks.
They allow you to see hair better! White sinks make it easy to see the clients hair, wash out the dye and know that everything is washed thoroughly.
Often black sinks tend to hide the hair and may cause product to be left behind in the hair due to the higher difficulty in differentiating the hair from the dark background of the black or grey sink. This is especially the case when the client has dark hair, as this just blends in with the black shampoo bowl.
Disadvantage of a White Shampoo Sink: 
As demonstrated, white sinks tend to show discolouration more than black sinks.
This is clearly a disadvantage, and if you neglect the maintenance of the white sink, the discolouration or stains will become apparent, which will negatively affect the clients' mood. Most clients will hesitate to have their hair washed in a sink that appears to be dirty, even if it is clean.
That is where black sinks work better, they hide the stains and discolouration much better, meaning that your busy salon or barbershop can focus on other things, and just do simple maintenance instead.
At the end of the day, it is your decision. However, we always caution salon owners to think before purchasing a white sink. As the simple color change leads to higher maintenance, and often quicker replacement period as well. Many clients now know that their white sinks will need more maintenance, and often will need to be replaced sooner, however, the benefits of white sinks often outweigh the cons for them.
We will never dissuade you from going with the white bowl you want, however, we always want you to know and understand that white hair wash bowls often require a higher commitment to maintenance. So go for that beautiful white bowl, but just remember to keep up and budget for the maintenance costs of this choice.